Our homeschool group has a "nature notebook" class every month. The kids are supposed to keep a notebook where they journal things they've found, stuff like that. It's pretty interesting.
Today we spent some time in the park. We had a scavenger hunt and tried to teach the kids about observation. More than just finding stuff on a list. We wanted them to really look around and observe everything around them. I think it's something important for kids to learn. Every day MOST people are completely oblivious to the many wonders around us. If we don't pay attention to any of those details, how will we be able to care for them? But before I go off on a tangent there, I'll just get back to today.
We had a great time. This park had a nice little trail to walk around and a creek that went by it. I think the creek was the best part for most of the kids. A few of them spent some time IN the creek catching crayfish and fish.
Here's one that I caught(without getting in the creek):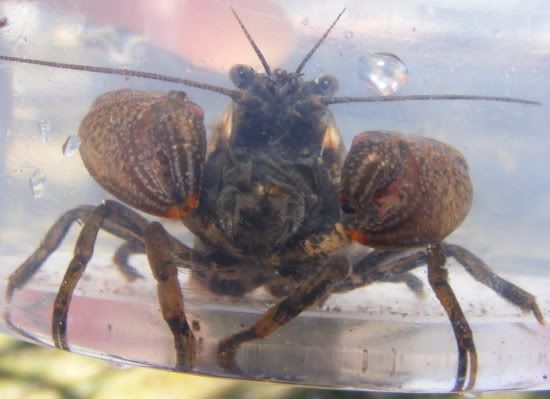 And after I caught it one of the kids noticed this:
Yep, those are eggs under her. Pretty cool I thought. Just had to get pictures of her as I don't see that often.
Oh, most people down in this part of the country call them crawdads, but their real name is actually crayfish.
As we were heading back to the cars to leave, one of the kids (I think it was my daughter, bad memory) noticed what she thought was some beetles on a light post. I went to look... it turned out to be baby spiders climbing off to go start lives of their own. We actually got to see a few of them fly away. that was exciting.
One of the things we were sort of supposed to look for was a bird nest in a tree. This had been seen by someone before all of us came so we were supposed to find where it was. I decided to get a picture from above the nest, as it wasn't TOO high.
Nothing in it. I'm guessing it's an old one.
Well, that's all for now I guess. I had a lot of fun and I know my daughter did too. Even though she was told not to, she was one of the kids that ended up in the creek.