A family in our homeschool group has blueberries and advertised to the homeschool group's yahoo group that people could come pick their own. Blueberries are always cheaper when you pick them yourself, and we eat a lot of blueberries. Last year a late hard frost ruined the crop in the entire area I guess so we didn't get to pick any last year. We were so excited about being able to pick some this year.
Along with berries, they also had bees which I imagine were there partly to help keep the blueberry flower fertilized. I would have gotten a better picture of the bees, but I'm not sure how close you can get to a hive without upsetting it, so I didn't get too close.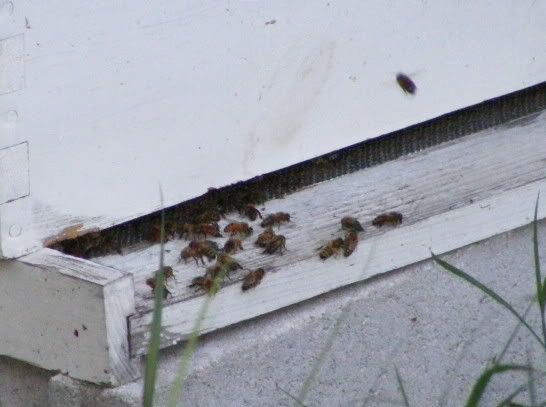 It was beautiful there, and beautiful out. A storm passed near the area shortly before we went so things cooled down just enough. The temperature was pretty much perfect.
The kids enjoyed themselves and so did my wife. She was looking forward to it. I'm not sure how long we were there but we picked two gallons. mmmmm... they're SO good.
We're grateful that someone in our homeschool group has blueberries and allowed us to come pick... not to mention, they're not that far from us. We may try to go back in a week or two to get some more