Well, I don't have ALL the pictures uploaded that I'd like. I take SO many pictures these days and very few of them ever get edited and uploaded.
A few days back I took my two oldest girls for a walk in the woods and we saw a three toed box turtle. I love those things. I imagine it wont be long before it starts hibernating...
A few weeks back my wife heard a sound of distress in the yard... she went out to see what it was and found a frog being eaten by a garter snake. I went out, took a few pictures, and then persuaded the snake to let go.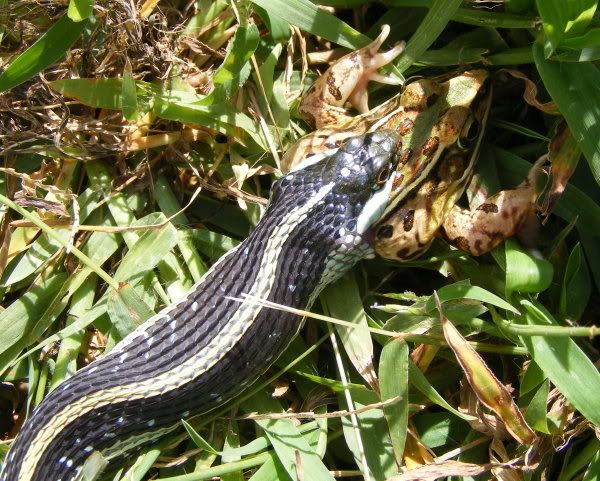 And today, I was cleaning some weeds and stuff out of a flower bed... putting my hands down into all the weeds to rip them up...
next thing I knew there was a rat snake trying to get away from me. I then took a few pictures and released it down the road...
This one shows how long it was... it's not full grown but you can see it's not tiny...
[img]httsp://i63.photobucket.com/albums/h128/millipede77/rat-length.jpg[/img]
here it is in the cage I transported it in...
and here it is during the release...