An Ibis
Posted: Fri Sep 12, 2014 10:59 am
A couple of my kids and I like to birdwatch... a lot. It's been fun. We have a few locations in particular that we like to go to and we really enjoy trying to find new species.
One location we try to get to from time to time is a fish hatchery about 30 minutes from here. My wife doesn't always like us driving so far with how much gas costs...
but, it's a good location... It is especially good for migrating birds, including some interesting things that are not usually found in our state. There's a list of birds that have visited there that we're hoping we'll see one day. The yellow-headed blackbird for instance...
A few days back we were visiting the hatchery and not seeing anything too out of the ordinary. Saw some interesting things though. When we got to one far corner of the place, we heard strange noises from a field. My best guess was they were some whip-poor-wills or something related. Had a sound like that and there were quite a few that we could hear. It frustrated me that I could not see what I was hearing even though it was just over the fence in an open field. I waited and watched for a while.
When we got ready to leave I told my daughters I was going to drive around the block to the other side of the field... and maybe, just maybe we'd hear or see the birds better.
We did not... In fact I couldn't hear them at all from the other side of the field...
BUT... instead we were treated to one of those less common birds that visit the area. They come through to visit the fish hatchery... It's BIG and has a lot of fish obviously... but the surrounding area is all farmland and has a lot of small ponds that some of these birds will visit. Thanks to driving down this little dirt road, we came across an ibis in one of those SMALL ponds... The kind of small pond someone likely put in just to water their cattle...
Neither of us have ever seen an ibis in the wild(at least not that I recall) so it was pretty exciting and unexpected.
I got some pictures... I wish they were better but, it's something.
I'm trying to narrow down the ID on it still. Based on location the most likely possibility is the white-faced ibis. Apparently the glossy ibis looks almost identical when they're young or not in their breeding plumage. Hopefully I can get some confirmation so I can add a definite species to my list
These aren't great photos but they're they best I got that day. I intend to go back and look for that bird again to get more pictures but it's possible that it's not around anymore.
<--clickable thumbnail
<--clickable thumbnail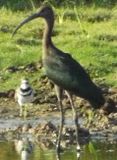 <--clickable thumbnail