Connect with your social network account
germinating
Posts: 94
Joined: Mon Feb 18, 2008 10:09 am
Originally posted: Dec 28, 2006
Well, these aren't pets but I didn't want yet another topic in the over-used porch talk... so anyway....
I picked out my show lambies today! I love 'em... they're so stylish and I think they'll do great for me...
Here's the wether: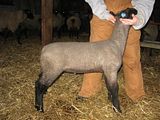 The ewe: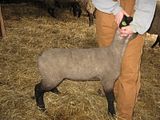 Anyway, I'll bring them home at the end of next month hopefully!
---
don't forget the ones you're going to bring me ;D

I want sheep
"But ask now the beasts, and they shall teach thee; and the fowls of the air, and they shall tell thee:"
- Job 12:7
---
germinating
Posts: 94
Joined: Mon Feb 18, 2008 10:09 am
Yes I know you want sheep but for now you'll just have to count them when you got to sleep at night, OK?
http://img166.imageshack.us/img166/4964 ... anikx2.gif
<--image not working
Sorry, you're not getting these. Unless you want to come up and watch me show the wether and then buy him from me at the sale!
---