Here's a Sugar Maple at my parents house; I love sugar maples!!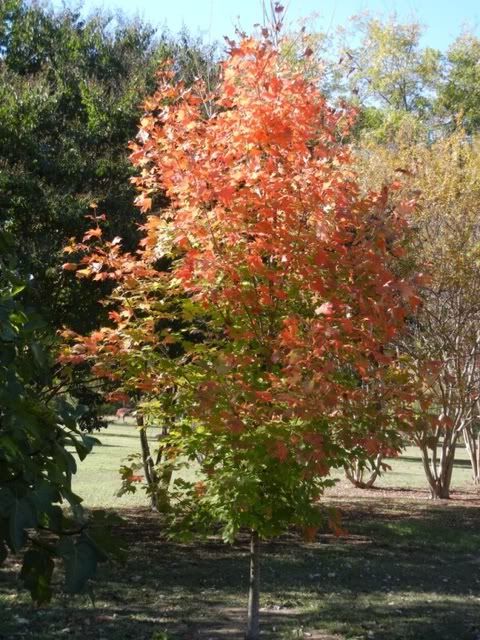 Trust in the LORD with all your heart, and lean not on your own understanding; In all your ways acknowledge Him, and He shall direct your paths. ~Proverbs 3:5-6~
millipede

Mr. Normal
Posts: 1096
Joined: Thu Feb 07, 2008 8:06 pm
13
Location: Arkansas
I like sugar maples. I don't see as many here as I did in New England growing up. Fall is definitely here though. Lots of things changing color and lots of leaves dropping. Just about every day I'm outside I stop and just stare at all the colors but I feel like I'm the only one in my family that really appreciates it all.
I have a sweet gum tree that I planted that is pretty. Some sassafrass... a few dogwoods, a red maple and LOTS of hickory that is turning yellow... amongst other things.
One thing that is kind of funny to me is the sumacs. We have sumac all over the yard. They're kind of pesky as they pop up everywhere. They're something that grows in what is considered a "waste" area. Under power lines and fields that are not attended to very well. So, most people don't enjoy them in their lawns. But birds love the seeds they produce and, this time of year they're VERY red. Quite beautiful.
Another thing to enjoy is trying to catch falling leaves with the kids.
"But ask now the beasts, and they shall teach thee; and the fowls of the air, and they shall tell thee:"
- Job 12:7
There's alot of sumac in my parents back field that pops up everywhere, but it's really bright and beautiful! I love seeing hickory trees in the fall; they always seem to pop with color!
Trust in the LORD with all your heart, and lean not on your own understanding; In all your ways acknowledge Him, and He shall direct your paths. ~Proverbs 3:5-6~