Connect with your social network account
originally posted Oct 27, 2006
of course I'm a fun guy for real, but this is about fungi ::)
I took a nice long walk today taking pictures of everything that was interesting to me... I think mushrooms are pretty interesting to I took a few pictures.
I'm sure you've all seen these on trees...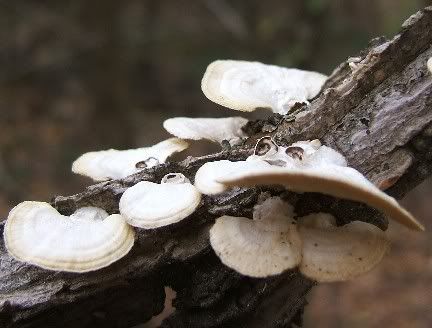 here's a cute little mushroom on the ground...
here's the same one, a little closer...
I think that mushroom liked my camera. That picture came out so well I used a larger version for my new background on my computer.
---
germinating
Posts: 94
Joined: Mon Feb 18, 2008 10:09 am
Ugh, Millipede... that was bad. ::)
The mushroom liked your camera!? What a little show-off!
Good pics. What kind is it?
I think mushrooms are interesting too... I hate to eat them, but some of the wild varieties are neat. We have lots of big yellow ones around here
---
I have no idea what kind it is. There's quite a few in the yard these days, it's been wet out. I think I may take some more pictures of mushrooms tomorrow. I'm certain I can find a few more out there.
I eat them occasionally, store bought that is. I don't know enough about the wild ones to trust myself to pick the right ones. But the store bought mushrooms are tolerable if they're still hot and in something. By themselves or cooled or non cooked, I just can't do it.
---
germinating
Posts: 94
Joined: Mon Feb 18, 2008 10:09 am
If they're minced very fine and disguised in some way I can eat them I guess.
I can see why you wouldn't want to eat them in the wild. It could be seriously risky. For some reason when I was little I was just sure I'd come across a Death Angel and somehow I'd be unable to control the urge to eat it and die in agony. I was a very strange child.
---
was?
well I didn't get any more mushroom pictures like I wanted to... I was too busy cutting down weeds and taking a few other pictures... oh well. I'm sure I'll have more chances to get more fungus pictures
Got another mushroom picture ;D
---
Hi, I'm new
Posts: 8
Joined: Mon Oct 27, 2008 3:51 pm
Hey nice pics millipede! maybe the next research project should be on mushrooms...
---
germinating
Posts: 46
Joined: Thu Apr 24, 2008 7:19 pm
Is that a jack o' lantern?
---
for a moment, birdybrain, you had me worried. I thought you were asking if that mushroom was a jack-o-lantern as in a pumpkin. I was going to tell you to get your eyes checked.
then it occurred to me that it might be a type of mushroom? So I looked it up.
I'd have to say that, No, it isn't a jackolantern mushroom. This mushroom was tiny... you can see a blade of grass or weed next to it.
Thanks Matt. I think mushrooms are neat looking, and I only take pictures of things I find interesting.
---
germinating
Posts: 94
Joined: Mon Feb 18, 2008 10:09 am
WHY are you calling her birdybrain??
---
---