Connect with your social network account
germinating
Posts: 94
Joined: Mon Feb 18, 2008 10:09 am
originally posted Oct 29, 2006
Here you go Missy...
Not the greatest pictures, but I remembered I had taken these a few months ago. I believe it's a White-lipped Forest Snail. They're really common where we are.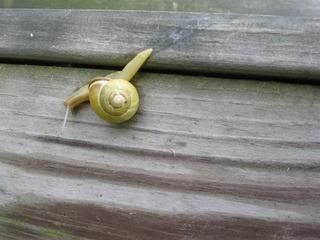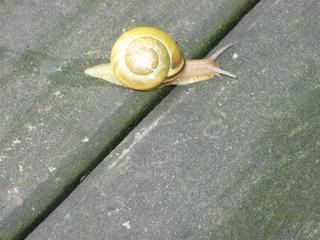 ---
I want one!!! We have some sort of snails around here, under logs and such... but they don't look like that. I have a few pictures around here somewhere of what we have... but ours are more of a brownish color.

And why are these pictures for Missy? Did I miss something?
---
germinating
Posts: 94
Joined: Mon Feb 18, 2008 10:09 am
Heather's sister Missy said she wanted to see some snail pictures...
Do you want me to capture the next snail I find and ship it to you? I'll do it if you post your pic on here.
(and not just some old bug, either!!)
---
snail shipping... nah... and I definitely wouldn't post a picture for that. Hey, at least I'm being honest
I got some snail pictures... this is probably the best of the ones I have so far... but there's so many snails around here it wouldn't be hard to get more. I found two snails under one log... this one was smaller and as you can see has a bluish color to its skin... the other was larger and the skin was more of a reddish color... kind of interesting. Oooh, I need to get some snail pictures from the snails in the river
---
germinating
Posts: 48
Joined: Mon Apr 21, 2008 7:40 pm
I have to show her these yet...we're never home at the same time!
---
you better show her. Does she have her own email address? You could email the link to her and she can look at it whenever she wants... I could make a nice HUGE snail picture for you and you could make it the background on the computer... that would surprise her
---
germinating
Posts: 48
Joined: Mon Apr 21, 2008 7:40 pm
Ew! No, she's 10, she never uses the computer, and she doesn't have an e-mail
---
Hey Heather, have you shown any of these to your sister yet?
I have a new one for her. It's a close up of the front of one of my pets ;D
---