Connect with your social network account
originally posted Nov 11, 2006
In case Janet stops in, I added the word snake to the topic. She doesn't want to see any.
The other week, on a warmer day, I was walking through the yard with my daughter. On the way back to the house I almost stepped on this snake. It was quite upset and tried biting like crazy. It has since tamed down a LOT.
This snake is an Eastern Racer and I'm hoping it will be a yellow belly racer. There's several different colors for racers here in Arkansas.
Not so easy to tell from these pictures, though I do have more, the pattern seems to fade as it gets down to the tail... and as this thing ages, that pattern will slowly disappear. It will look very different when it is older.
Here you can see the beautiful color pattern:
I let both my 5 and 3 year old girls hold the snake today. They enjoyed that. You can sort of see my 5 year olds hand in this picture: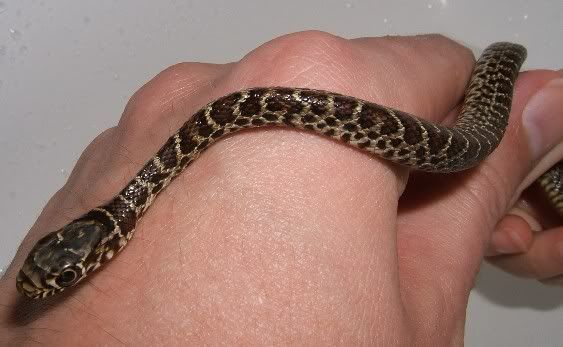 ---
germinating
Posts: 94
Joined: Mon Feb 18, 2008 10:09 am
Eew, I hate snakes!
I know, I know. You'll scold me for that. I will say that your eastern racer has beautiful patterning, and while I appreciate that beauty, I'll leave the snake handling to you and your kids, thank you very much.
---
I put a warning in the title...
Snakes are great... MOST people that don't like them, just don't understand them. Most fears and dislikes come from ignorance(not calling anyone ignorant).
Anyway... I'll hold off the lecturing for now.
This snake, like MANY others, is very safe. It was a little nippy when I first caught it, but now I handle it almost every day. Even my three year old held it all by herself... and she's usually scared of those things.
Anyway... it is beautiful, but that pattern will disappear someday. It will still be a nice looking snake though.
---
germinating
Posts: 46
Joined: Thu Apr 24, 2008 7:19 pm
Purty! I haven't seen one patterned like that - but it's amazing how you can look right at snakes and not see them.
I've kinda liked snakes for awhile. I ought to take a picture of the picture of me with a black snake (when I was 9) and post it sometime.
---
I should post some more snake pictures shouldn't I? I have pictures of water snakes, cotton mouths, green snakes, worm snake, prairie king snake, western rat snake, brown snake, etc...

I'd love to see any snake pictures you have. If you make a new topic, put the word "snake" in the title so certain people don't have to look.
---
germinating
Posts: 46
Joined: Thu Apr 24, 2008 7:19 pm
I'll have to do that at some point - i don't think I have any good snake pictures besides that one. It's not all that good, really, but it's kinda funny.
---