Connect with your social network account
originally posted Oct 24, 2006
my eyesight isn't quite as perfect as it use to be, but it isn't that bad yet... regardless, I can be pretty good at spotting things when I want to... like a green snake on a vine...
Today I was walking down my driveway... I had my camera with me so I thought I'd look for things to take pictures of. There's a bunch of little sassafras trees in the yard, like real little. The smaller ones are real young, obviously, and have new green leaves on them, while the older trees are changing colors and loosing their leaves. So these young trees are VERY Green. Well I was just walking by and I noticed something on one of them... it was a caterpillar. A GREEN caterpillar. Anyway... I got a few pictures...
I looked it up when I got back in the house... that's where those field guides come in handy
It's a spicebush swallowtail caterpillar.
This one is clickable, it's 800x600, perfect for my wallpaper
click->
another shot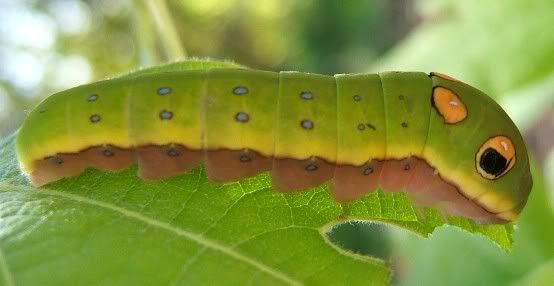 Well I got to thinking, perhaps there are more around... On another small sassafras tree(we're talking under a foot here) I found a leaf all curled up... I opened it, it was empty... Then I opened another and found an empty shell, where a caterpillar once transformed itself... Then One last curled leaf and I found this, I imagine it is getting itself ready to transform itself...
Then I was looking around some more, and I found some variegated fritillary caterpillars on some passion flower vines...
doesn't this make you all want to come visit me even more?
---
germinating
Posts: 94
Joined: Mon Feb 18, 2008 10:09 am
Eeww... those are ugly caterpillars!
---
Ugly? What's wrong with you? I thought they were very pretty. If you think they're so ugly, what would you consider an attractive caterpillar?
---
germinating
Posts: 48
Joined: Mon Apr 21, 2008 7:40 pm
Hey, Missy found a spicebush swallowtail caterpillar! I think I put the picture of its butterfly on one of these sites...*frowns* But the last caterpillar is really cool.
---
I think they look kinda cool, what do they look like after they change?
Serve God no matter what!

June 8, 1946 - February 22, 2014
---
I had to dig through my photos... man I need to organize those... but I found a few of interest...
Here is the chrysalis of the variegated fritillary:
And here is an adult, both the crysalis and adult were taken with my old camera, so the pictures aren't that great.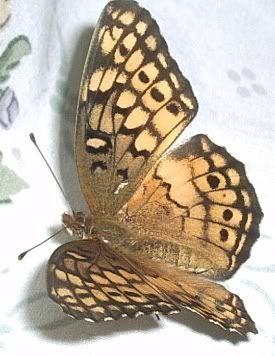 And here is a couple of pictures of the spicebush swallowtail butterfly:
I have a ton of variegated fritillaries in the yard, adults and caterpillars... I see a lot of swallowtails, but this is the first time I've seen a caterpillar. Now that I know they like sassafras I'll probably be looking for them more often...
---
germinating
Posts: 94
Joined: Mon Feb 18, 2008 10:09 am
The butterflies are pretty, I just don't care for them before they get their wings.
An attractive caterpillar? Um, I guess I never even thought about it!
---
I still can't get over you thinking they're ugly... Just for that I'll have to go find more caterpillars to take pictures of.
---
germinating
Posts: 94
Joined: Mon Feb 18, 2008 10:09 am
Okay, to be fair, I guess they're not all THAT ugly... they do have interesting color patterns... But that's as far as I'll go.
---