Connect with your social network account
originally posted Oct 12, 2006
I lift things up all the time to see if there is anything interesting under them... quite often I find black widows amongst other insects...
But this one day I lifted up the container I keep my birds feed in. I saw a depression in the soil with these little balls of something that I immediately took to be balls of dung.
I wasn't sure if we had any dung beetles around here, as on tv I always saw them in other countries... so I went to my field guide and found this little critter is a 'glossy pill bug'. They of course collect and eat dung, and they lay eggs in there with them so the babies have something to eat. Kind of interesting if you ask me.
Here you can see the whole picture, depression in the ground along with balls of dung...
Here is a close up of the dung with the beetle...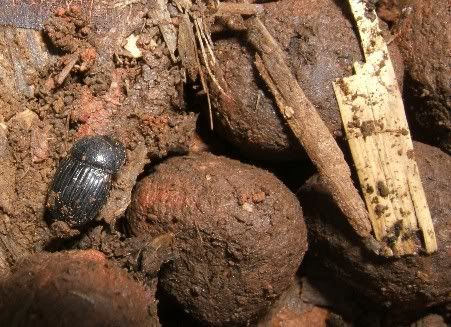 And here is a closeup of the glossy pill bug itself...
Interesting that someone could be excited at the site of dung
---
germinating
Posts: 46
Joined: Thu Apr 24, 2008 7:19 pm
Interesting! They must be strong little buggers to shove that load around!
someone could be excited
i thought you didn't get excited?
---
I guess I can get a little excited about certain things... but not usually the things most people get excited about... new cars, money, famous people, etc... that's all just stuff...

Now show me a snake, salamander, flowers, and many other forms of nature... while I still don't jump up and down for joy, I really do enjoy those things more
---