Connect with your social network account
You just never know how birding trips will go... I've been out to one location about 4 times looking for a prairie falcon. It's not a common bird here but can be found, and has been found recently near a prairie just outside city limits in our town. It would be a first for us so, I've been looking. So far, no luck.
Just yesterday I was out looking for that bird and after I gave up, I decided to drive to another location that I like to visit... it's our town's "city lake". I usually see some herons, eagles, vultures, ducks, grebes, and some other birds there. Once in a while some other birds will show up. Thanks to Ebird(if you like bird watching, go find that site...), we got to see some hooded mergansers there the other month.
Anyway... The sun was starting to go down and it was about 15°F with a bit of a wind... I pulled up to a part of the lake that has a makeshift boat ramp and some land that sticks out into the lake like piers... and some area for parking(all dirt, bud, and potholes). Not a big area but, it's a good view of most of the lake. The plan was to just sit in the van and see if anything interesting was there and just to count some birds(people count birds to enter data into Ebird, and for their own life lists). While scanning the lake and watching some Gadwall(a type of duck) I saw way on the other side of the lake... some HUGE white birds. Based on size, I knew right away they had to be swans. There was nothing else they could be.
I decided to just deal with the cold(I was wearing plenty of clothing but, it was still COLD) and park around the corner and walk across a field to get a closer look and some pictures. My back started to ache from the shivering and I had only been outside for a minute or two. Because the sun was going down and I was shivering, the pictures did not turn out well. But, they were good enough that I was able to get a proper ID of trumpeter swan.
This morning I asked the kids who wanted to brave the cold(it was 14° when we were heading out) to go see the swans. All four of the ones old enough to walk decided to go. We didn't stay too long and some of the kids got really cold(enough to whine a bit) but they were all glad they saw the swans and I got some better pictures. I'm a perfectionist and REALLY wish I could get even better pictures... but, these will do.
Beautiful birds... and a rare treat for this area.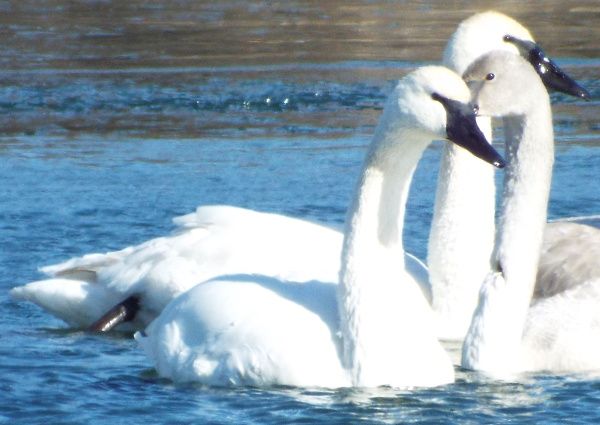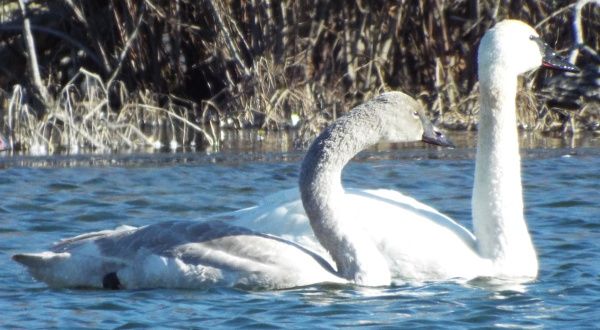 ---
Beautiful! I think the pics turned out great
It's been really cold here too...13-15 degrees the last 2 mornings - brrr!
Trust in the LORD with all your heart, and lean not on your own understanding; In all your ways acknowledge Him, and He shall direct your paths. ~Proverbs 3:5-6~
---
Thanks... I got a few better pictures since then. The swans hang around for over a week but they finally moved on.
I don't know if they moved on because of the weather or, timing, or... maybe someone scared them. A lot of people started going to see them... especially after they made the front page in our local news... as they're not common around here.
It was great to enjoy them while they were here.
It has warmed up some...
---
You should post the other pics that you took!
Trust in the LORD with all your heart, and lean not on your own understanding; In all your ways acknowledge Him, and He shall direct your paths. ~Proverbs 3:5-6~
---
I am THE worst procrastinator in the world... I have SO many pictures of SO many things that I'd like to share but, I don't always get to that.
If I ever do get them uploaded I'll be sure to have more on here.
---
LOL I'm that way too
Trust in the LORD with all your heart, and lean not on your own understanding; In all your ways acknowledge Him, and He shall direct your paths. ~Proverbs 3:5-6~
---