Connect with your social network account
originally posted Oct 28, 2006
Yes, question mark...
butterfly that is. There's two butterflies that look VERY similar(well, I'm sure there's a TON out there that are hard to distinguish from others) the question mark butterfly and the comma. They're part of the Angel Wing butterfly group. Very pretty, especially the shape of their wings.
Well, what distinguishes the comma from the question mark? Simple...
The comma has a shape on the underside of the wing, that you can see when the wings are closed... It looks like a comma. The Question mark has the same shape, but also has a dot near it... looks something like a question mark. There are several angelwing butterflies that will have a comma like shape, but only one has that dot along with it.
Some time ago I got a picture of what I thought was a question mark butterfly, but after looking at more pictures I began to think it might be a comma... I never saw the underside of the wings...
Anyway, I went for a walk today and finally snuck up on this butterfly which I knew was one or the other, but couldn't tell until I got home and looked at the picture... I cut out an enlarged view of the actual question mark... can you see it on the butterfly??????
---
germinating
Posts: 48
Joined: Mon Apr 21, 2008 7:40 pm
I see it! BTW, Missy is fascinated by all your pictures on here. She wants to know if you have snail pictures.
---
germinating
Posts: 94
Joined: Mon Feb 18, 2008 10:09 am
I have some snail pictures! I'll have to post some tomorrow for Missy. Or maybe tonite if I get the time.
---
Oh... there's where the snails were asked about... I think I might have some snail pictures around too... I'll have to check... they're not as interesting as the ones that some weird girl posted though.

Glad she likes the pictures. I enjoy taking them.
---
germinating
Posts: 94
Joined: Mon Feb 18, 2008 10:09 am
What? What some weird girl? What are you talking about Millton? what could be weird about posting pictures of snails?
---
weird girl? I'm surrounded by them, both online and in real life
I have another picture of the question mark... I found this one sitting on the edge of a dirty applesauce jar. I'm guessing it was collecting moisture from it... it was so set on being there, I even got away with touching it... That's how I got so close with this picture.
click->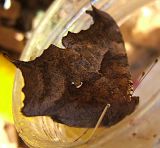 What do you think? A lot easier to see that 'question mark' on it?
---
germinating
Posts: 94
Joined: Mon Feb 18, 2008 10:09 am
Not really.
;D
---
certainly you are joking... that hillbilly sense of humor is hard to detect sometimes
much better close up???
In the first picture you can see some of the colors from when its wings are open. The second picture shows how different it can look when its wings are closed.
I think I mentioned this before... but there's another butterfly called the comma, that is very similar to the question mark. The best way to tell them apart is there is no dot on the comma... interesting huh? Someone put a lot of thought into those names
---
germinating
Posts: 94
Joined: Mon Feb 18, 2008 10:09 am
I'm sorry, I really love being a hillbilly. So the more you pester me, the more hillbillyish I'll act.
And no, I just can't see the question mark, not really anyway. I see a squiggly line that looks maybe like a backwards ? mark, but I dunno. Maybe I need glasses.
---
do you see what looks like a white dot and then a comma? Tip your head way to the right... it should look at least a little like a question mark.
---