originally posted Nov 9, 2006
I've found a couple of these "wooly boogers" this year - the only thing that makes them stand out is that they're HUGE! Here's a pic of one that's balled up: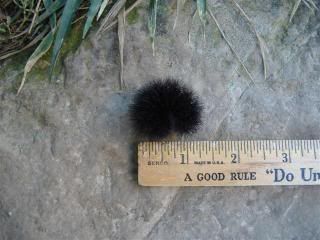 It was probably 4 inches long when it wasn't balled up. I wanted a picture to show its whole length, but I had to move it so I could take the picture, and it rolled up on me. Those critters won't move once they're rolled, either!
So, does anybody know what they turn into? (Bats, maybe? ??? ;D)