Connect with your social network account
originally posted Jun 9, 2006
gray tree frogs to be exact. I have TONS of them in my yard this time of year. I leave the outside lights on all night most of the time, which attracts a LOT of bugs. Those bugs attract the tree frogs. I love these guys. They make decent pets too.
I have a ton of tree frog pictures, most of which are pretty good. This one is just one of the most recent.
Enjoy.
click->
---
WOw hey i will have to see if i can get the tree frogs around here to come out and get a few pictures...



C_B
---
if you do, try to get a picture of a green tree frog. I don't have those around here.
That thing looks huge doesn't it?
---
Yes it does and i think that is what they are all i know is they are green... I will look out for some...



C_B
---
Hi, I'm new
Posts: 3
Joined: Mon Oct 27, 2008 10:25 am
im glad i dont look like that...
---
germinating
Posts: 48
Joined: Mon Apr 21, 2008 7:40 pm
Why? He's cute! Hehe, you don't see a whole lot of tree frogs around here...my cousin found a dead one a long time ago...I remember them burying it under their driveway *giggle*
---
I love tree frogs... this is a gray tree frog, even though it has green on it. They actually change back and forth.
The green tree frogs are all green and have smoother skin.
---
a few more gray tree frog pictures... these aren't quite as good... I had to reach to even get them... the flash is a little much but it was the only way I could get a decent picture... oh well...
This thing was hiding behind the shutters and was just so chubby and cute, I just had to take some pictures...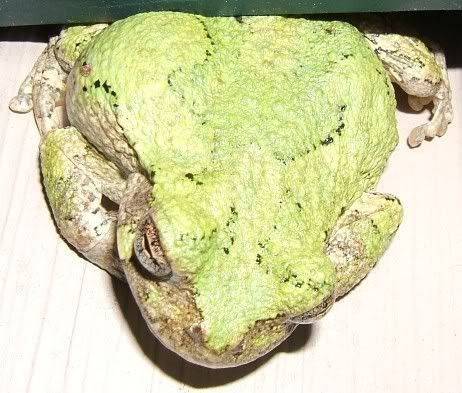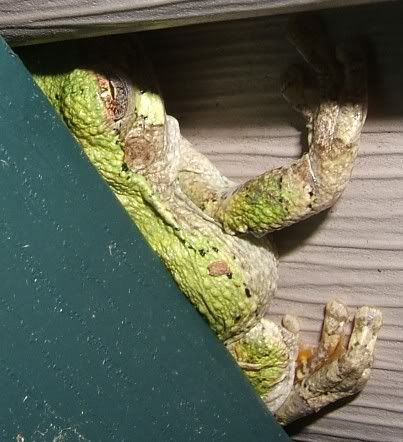 ---