Connect with your social network account
What's your favorite kind of wildlife?
There's SO many wild creatures out there that I find quite interesting. I really can't choose one single favorite.
I love quite a few different insects... amphibians like toads, frogs, salamanders, and newts... all sorts of reptiles... birds, deer, rabbits... the list just goes on. SO many different types of wildlife that just amaze me...

How about you? Do you have a favorite?
---
Birds. I love to just sit and watch the birds. There are so many colors and sizes... I like to watch Easter Bluebirds, Bluejays, Titmouse, Chickadees. Robins are very cute to watch. They are so big and they wait until the rain is over and here they come pulling up worms... So amusing...
---
That reminds me... I haven't provided bird seed to the wild birds yet this winter. I really enjoy watching them at the feeder. I guess I haven't because of all the weeds in my yard. There's still plenty of plants in the yard that have seeds on them. In the right conditions, nature will provide on its own... But I may still try to fill up my feeder soon.
---
I don't know if I have a single favorite either...there are so many to choose from! I agree, birds are so beautiful to watch! Last year we had a birdfeeder right outside out kitchen window and my mom, dad, and I would eat breakfast and watch the antics of the birds (cardinals and finches expecially). I also love squirrels though. A few years back, I found a baby squirrel and raised him. He was SOOO cute! He fell out of an oak tree so I named him Acorn. Unfortunately, he died after a few months...I was heartbroken
I love deer too...I wish we had more of them around our place, but now we have a subdivision behind our property so most of the deer moved away
Trust in the LORD with all your heart, and lean not on your own understanding; In all your ways acknowledge Him, and He shall direct your paths. ~Proverbs 3:5-6~
---
aww... that's sad about the squirrel. I sometimes wish I could find a weak animal that needed caring for so I could take care of one for a while. I'd really like to see a flying squirrel... That would be cool.
---
My dog had found a baby squirrel in our yard. it was not more then 4 to 5 weeks. it had fallen out of the tree and Sydney took me to where it was at... i was surprised he didnt eat it... I put it in some hay with a towel over it to keep it warm and called a Wildlife rehabilitator but it wound up dying a couple of days later... Sad thing... They are so full of life its hard to think of them as pests...
---
My cat found Acorn at the base of the tree and was pawing at him...I was really surprised that she hadn't eaten him either. He was hollering at the top of his lungs so I got some gloves and picked him up. His eyes were just barely starting to open so I think he was about 4 weeks old or so. My brother tried putting him back in the tree and I waited to see if his mom would come back and get him...she didn't. I bugged Mama until she finally said I could bring him inside
. I was so worried he wouldn't make it thru that first night but he did!! I fed him with a small syringe (can't remember the formula tho) and pretty soon he would follow me around whenever I let him out of his cage. Once, he climbed up my Mama's pant leg (inside the pants!) ROFLOL
She was screaming and hollering and afraid that he would bite her, which he didn't. He would also climb up on top of my head and scratch around in my hair LOL. I sure do miss him!
Trust in the LORD with all your heart, and lean not on your own understanding; In all your ways acknowledge Him, and He shall direct your paths. ~Proverbs 3:5-6~
---
You're making me want a baby squirrel
---
Haha... I wish I could have kept mine but i just couldnt let the poor thing suffer from my not knowing how to care for it! My mom wouldnt dare let the squirrel i found come inside... I tried to get to to let me but it just didnt work... She said they have to many diseases(which some do...)
---
This is an old post but I see that I never did post a pic of my squirrel, Acorn
I was reading my Bible and he jumped up on my head - mom told me not to move and she snapped the pic LOL.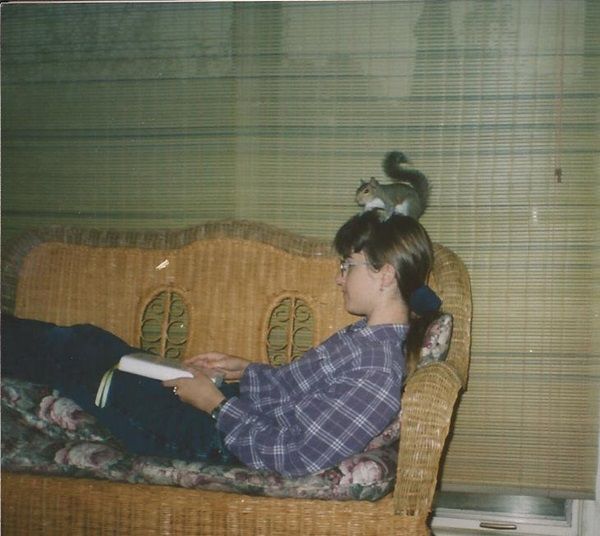 Trust in the LORD with all your heart, and lean not on your own understanding; In all your ways acknowledge Him, and He shall direct your paths. ~Proverbs 3:5-6~
---